NEW APP!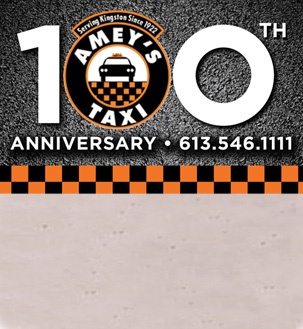 100th Year Anniversary
This year Amey's Taxi is 100 years old!! We are very thankful we've been able to be the #1 taxi company in the Kingston and Surrounding Area for 100 years (and counting) and we want to CELEBRATE!!!
Read More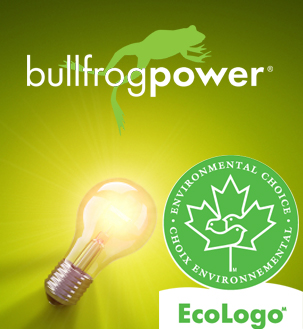 Green Conscientious
Amey's office is powered by Bullfrog Power - the first electricity retailer in Ontario to sell power exclusively from wind and low-impact ...
Read More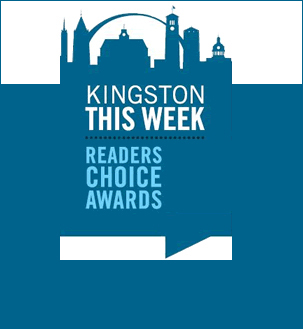 Award Winner
Kingston This Week's Reader's Choice Award winner since awards begun.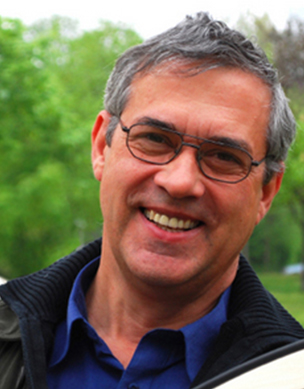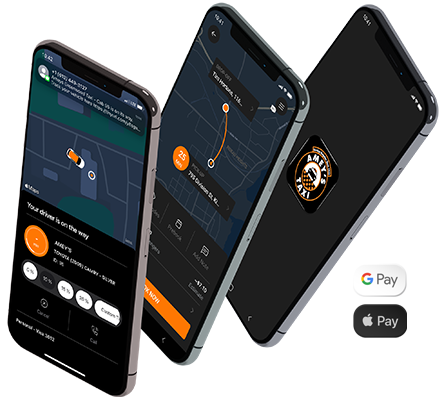 NEW & IMPROVED
Mobile App
As of April 27, 2022, we are pleased to offer you the very latest in smartphone booking technology; the Free Mobile Amey's Taxi iCabbi application. The Amey's Taxi Mobile App, allows you to book and manage your own reservations via iOS, android or the web in real-time, payment through the app and some exciting features such as the quickest way to get a cab to your door. An app you can count on from the company you already trust for your dispatch requirements.

Customer Compliments
Last night I called another service, and after 23 minutes of waiting for my cab I called AMEY`S TAXI. My driver showed up in three minutes and got me to my dinner on time. I can`t thank you enough.
Stephanie R.
I called AMEY'S TAXI after finding my regular company too busy to answer their phones. During my trip to KGH Emergency, the driver showed so much genuine concern for me, was so extremely kind, and understanding. From now on when I need a taxi I will be choosing AMEY'S!
Beth
I lost a very important(irreplaceable) piece of clothing in a taxi and I called in to the office to inquire about it. The dispatcher asked the driver and that driver came from all the way across town, drove around every building near where he dropped me off circling and searching. Although to no avail, he went above and beyond to try and help me. I wanted to recognize his efforts. We need more taxi drivers like him!!
Anonymous
I called for a van to help me move some things last night. My driver was her right away and not only was she super polite, friendly, she got out and helped me load and unload all my belongings! FEMALE DRIVERS ROCK! She was AWESOME!
Sally Anne
Last night one of your drivers picked me up at Thompkin`s Funeral Home on Davis Dr. He could see that I was visibly upset, and I just wanted to say that he was beyond ANY driver I have ever experienced, the most gentlemanly kind person. I need him to know that he truly made my trip home a pleasure even in my extreme sorrow.
Deborah
In a rush to make it home this weekend, I had not left myself enough time to make it to the VIA station through early morning traffic. I called AMEY'S TAXI and my driver was very knowledgeable and efficient. He helped me make it to my train on time and even put me in a relaxed and much calmer demeanor, which allowed me to gather my thoughts. WHAT A EXCELLENT DRIVER and LOVELY PERSON!!
Anonymous
JJ is the best driver ever!! I love JJ he plays good music. My ride was awesome!!
CayLey
I called from Loblaws and let the call taker know I had lots of groceries and would need help. My driver Gerald Lunn was polite, and smiled the whole time he helped me carry my groceries right to the door!! I wanted to let him know I am grateful for his help and that he is an excellent driver.
Doreen
My driver today, Ken in CAR # 33, had a very clean car, smoke and scent free. Ken was friendly, well-dressed and clean-cut. It was nice to have a gentleman help me run my errands.
Elaine
Even though my taxi took me to KGH for a procedure, as soon as I was able to, I called AMEY`S TAXI to let them know about the kind compassionate driver BRIAN in CAR 104 who brought me down to the hospital. Thanks BRIAN!! I appreciate all that you did.
Sherry
Erin in CAR # 15 picked me up today at Loblaws and brought me home. I just want to say ERIN deserves a GOLD STAR for all her hard work and for going the extra mile. THANK YOU.
P. Fox
My driver PETER was extremely polite and well-dressed. We had intelligent conversation and he made my journey home a pleasurable one! I always call AMEY'S TAXI!!!
B. Snider
My driver today was polite, friendly and my cab was immaculate! Keep up the great work AMEY'S.
Wayne
I wanted to call to say THANK YOU so much to the driver of my cab tonight!! Without us even getting a chance to call back about it, He turned around and return my wife`s purse before she even had time to realize it was gone. Honesty is the best policy! Thanks WAYNE!
K. Horton
I was very pleased with my driver today. She was personable, and friendly, I look forward to travelling with this driver again.
Sylvia
My driver was AMAZING!! Very helpful and kind, but I usually find this to be the case at AMEY`S TAXI. The do have the best drivers in town.
Kim P.
Today was the best ride I have ever had in a taxi! Mary is an incredible driver, Thank You Amey`s Taxi.
Mrs Baker
Today from my apartment, I watched an AMEY`S TAXI driver get out of his cab and help a young lady carry all her groceries to her door up the stairs of her apartment! Way above and Beyond AMEY`S very impressed with your services.
Anonymous
My driver, BOB SHAW, was a very nice man. A pleasure to drive with!
Amey's Passenger